Tim Keller on Social Justice
Each one should remain in the condition in which he was called.
Were you a bondservant when called? Do not be concerned about it.
(But if you can gain your freedom, avail yourself of the opportunity.)
For he who was called in the Lord as a bondservant is a freedman of the Lord. Likewise he who was free when called is a bondservant of Christ.
You were bought with a price; do not become bondservants of men.
So, brothers, in whatever condition each was called,
there let him remain with God.

I CORINTHIANS 7:20-24
TIM KELLER has written the book Generous Justice, How God's Grace Makes Us Just. The book makes an excellent case concerning our responsibilities to "do good to everyone, and especially to those who are of the household of faith." (Galatians 6:10) We need to be reminded of those responsibilities, and Dr. Keller does that well. However, Jude 3 & the PCA has serious concerns about Dr. Keller's book:
1. Dr. Keller's use of Social Justice language is dangerous, implying acceptance of non-Christian theories used in postmodern culture, especially in our schools. Furthermore, Dr. Keller admits these "divergent theories" are "very powerful" and "Christian authors" are "usually influenced" by them. So, if Dr. Keller knows this is true, why does he use them? The answer may be: contextualization. But is this safe and proper contextualization? We don't think it is. Eugene Peterson wrote that "We cannot be too careful about the words we use; we start out using them and they end up using us."
Jude 3 & the PCA believes Dr. Keller's use of Social Justice language confuses rather than clarifies the plain statements of the Bible regarding believers' social responsibilities. And his use of Social Justice language unnecessarily and irresponsibly exposes believers to "divergent theories" he acknowledges are dangerous.
Read articles by Todd Pruitt and Denny Burk on this page.
There's no such thing as "social justice," people. In fact, in the Bible justice never has an adjective. There's justice and there's injustice, but there's not different kinds of justice.

VODDIE BAUCHAM
I say this in order that no one may delude you with plausible arguments…See to it that no one takes you captive by philosophy and empty deceit, according to human tradition, according to the elemental spirits of the world, and not according to Christ.

COLOSSIANS 2:4,8
2. We are concerned that Dr. Keller's book is so heavily dependent on many Progressive and liberal sources for its support. Dr. Keller makes the statement, "I propose that readers remember that the Biblical concept of justice is very comprehensive and therefore it should be possible to glean great ideas from all kinds of sources." But reading that statement, one would expect Dr. Keller to have written instead that "the Biblical concept of justice is very comprehensive and therefore" we don't need other sources, including Progressive and liberal sources. Dr. Keller's statement seems to be his clearly flawed apologetic for using those sources to support his conclusions in Generous Justice.
Jude 3 & the PCA asserts that since the Bible is "comprehensive" and speaks plainly about justice, there is no need for a book that uses other sources, especially the many liberal sources Dr. Keller often cites. Matthew 15:9 warns against "teaching as doctrines the commandments of men." Consequently, we believe "the commandments of men" in Generous Justice are not appropriate or necessary. The Bible is sufficient for faith and practice. (We recommend reading The Rule of Faith and Practice by A. A. Hodge.)
By A. A. Hodge
Whatever God teaches or commands is of sovereign authority. Whatever conveys to us an infallible knowledge of his teachings and commands is an infallible rule. The Scriptures of the Old and New Testaments are the only organs through which, during the present dispensation, God conveys to us a knowledge of his will about what we are to believe concerning himself, and what duties he requires of us.
By Tim Challies:
I believe it is only through a firm conviction of the sufficiency of Scripture that a church can truly consider itself built on a foundation of sola scriptura. Scripture's inerrancy, authority and inspiration mean little if we do not also believe in its sufficiency. When we do not believe in Scripture's sufficiency, we must substitute it with something. What we put in its place can never have the power and authority of the Bible. It can never be sufficient.
Servants, be subject to your masters with all respect, not only to the good and gentle but also to the unjust. For this is a gracious thing, when, mindful of God, one endures sorrows while suffering unjustly. For what credit is it if, when you sin and are beaten for it, you endure? But if when you do good and suffer for it you endure, this is a gracious thing in the sight of God. For to this you have been called, because Christ also suffered for you, leaving you an example, so that you might follow in his steps. He committed no sin, neither was deceit found in his mouth. When he was reviled, he did not revile in return; when he suffered, he did not threaten, but continued entrusting himself to him who judges justly.

II PETER 2:18-23
By Dave Jenkins:
No other writing, no matter how godly the pastor, theologian, Bible teacher, or denomination they may come from, are to be seen as equal to—or competing with—the Word of God. The Bible is all that is necessary for the Christian to understand the character of God, the nature of man, and the doctrines of sin, heaven, hell, and salvation through the Lord Jesus alone. Paul, when writing to the Galatians, indicates the seriousness of delivering a message outside of Scripture when he says (in Galatians 1:8), "But even if we or an angel from heaven should preach to you a gospel contrary to the one we preached to you, let him be accursed." One of the most potent verses on the topic of the sufficiency of Scripture comes from Psalm 19:7-14, where David rejoices in the Word of God—declaring it to be perfect, trustworthy, right, sure, and altogether precious.
Sadly, such attacks come from inside our local churches, through management techniques, worldly methods of attracting a crowd, entertainment, extra-biblical revelation, mysticism, and some forms of psychological counseling that declare that the Bible and its precepts are not adequate for the Christian life.
All Scripture is breathed out by God and is profitable for teaching, for reproof, for correction, and for training in righteousness, that the man of God may be complete, equipped for every good work.

II TIMOTHY 3:16-17
3. Dr. Keller believes Christians can reform cultural institutions even when those institutions are dominated by unbelievers. He writes, "Many Christians resist the idea that social systems need to be dealt with directly. They prefer the idea that 'society is changed one heart at a time,' and so they concentrate on only evangelism and individual social work. This is naïve." In this statement Dr. Keller implies that Christians should confront and change social systems "directly," rather than indirectly through evangelism. And when attempting to change those "social systems," he claims a focus on "evangelism," changing "one heart at a time," is "naïve." He further indicates that for those wanting to change "one heart at a time," this choice is a preference ("They prefer"), rather than a command for Bible believing Christians.
Jude 3 & the PCA believes the only significant way to change any system for the better is by changing the hearts of those who work in that system. Paul says that "The saying is trustworthy and deserving of full acceptance, that Christ Jesus came into the world to save sinners…" (I Timothy 1:15) Jesus did not come to save systems. Any approach to systemic change without changing "one heart at a time" is superficial, temporary and (yes!) naïve. Hearts changed by the Holy Spirit are changed permanently, and genuine conversion always fosters positive social consequences, including systemic reform.
Before heart change / Galatians 5:19-21: Now the works of the flesh are evident: sexual immorality, impurity, sensuality, idolatry, sorcery, enmity, strife, jealousy, fits of anger, rivalries, dissensions, divisions, envy, drunkenness, orgies, and things like these. I warn you, as I warned you before, that those who do such things will not inherit the kingdom of God.
After Heart Change / Galatians 5:22-23: But the fruit of the Spirit is love, joy, peace, patience, kindness, goodness, faithfulness, gentleness, self control; against such things there is no law.
It is impossible, therefore, to deal first with the social and political evils of the day, and then deal afterwards with the unseen things, for the simple reason that without dealing with the unseen things you cannot deal successfully with those social and political problems at all.

J. GRESHAM MACHEN
Therefore, Jesus's mission laid out in Luke 4 is not a mission of structural change and social transformation, but a mission to announce the good news of his saving power and merciful reign to all those brokenhearted–that is, poor–enough to believe.

KEVIN DEYOUNG
4. Dr. Keller states that "When we pour ourselves out for the poor—that gets the world's notice." And he states that when the world sees this kind of behavior, "you're going to find that all kinds of non-Christians are not only going to invest in that and want to partner with you in that, but a lot of them are also going to be attracted to the gospel because of that." (Entrepreneurs Forum speech, Redeemer NYC)
Jude 3 & the PCA questions whether attracting unbelievers "to the gospel" is a proper reason for social action. The Gospel presented in the Bible is, in fact, unattractive to unbelievers. Dr. Keller's response might be that this is why we need social action to attract them by supplementing the Gospel, and maybe God does use that approach sometimes. But, rather than making the unattractive Gospel attractive, isn't the Christian's call to social action a simple call to loving obedience prompted by the Holy Spirit? And, knowing the Gospel is an offense to unbelievers, aren't we being manipulative and disingenuous if our reasons for social action are to attract unbelievers to a Gospel we know will or should offend them? FFP maintains that a clear, unabbreviated presentation of the Gospel is required when addressing unbelievers. The Holy Spirit will then convict God's elect of their need for saving grace.
And he will become a sanctuary and a stone of offense and a rock of stumbling to both houses of Israel, a trap and a snare to the inhabitants of Jerusalem. And many shall stumble on it. They shall fall and be broken; they shall be snared and taken.

ISAIAH 8:14-15
For Jews demand signs and Greeks seek wisdom, but we preach Christ crucified, a stumbling block to Jews and folly to Gentiles…

I CORINTHIANS 1:22-23
So the honor is for you who believe, but for those who do not believe, "The stone that the builders rejected has become the cornerstone," and "A stone of stumbling, and a rock of offense."

I PETER 2:7
Woe to you, when all people speak well of you, for so their fathers did to the false prophets.

LUKE 6:26
Let the Church show what it can do with the plain emergency as it actually exists in this world – so the argument might run – and then, if it proves able to do that, the world may think it worth listening to if it talks about God. Plausible reasoning this is – plausible but utterly untrue.

J. GRESHAM MACHEN
In the first place, the program that this reasoning proposes will not work. It proposes that we shall first deal with the political and social emergency, and then afterwards deal with the unseen things. But what was it that brought the emergency upon us in the first place? Was it something in the realm of that which can be seen? Not at all. The physical resources of the world were amply sufficient for the world's needs. No, the thing that brought the emergency upon us was something in the realm of the unseen things. It was an evil that was found within the soul of man…
It is impossible, therefore, to deal first with the social and political evils of the day, and then deal afterwards with the unseen things, for the simple reason that without dealing with the unseen things you cannot deal successfully with those social and political problems at all.
The glory of the gospel is that when the church is absolutely different from the world, she invariably attracts it.

MARTYN LLOYD-JONES
5. Dr. Keller teaches that social action was the primary cause for growth in the first century church. (Note) He cites Acts 2, 4, and 6, stating that "deeds of justice gain credibility for the preaching of the gospel. In other words, justification by faith leads to doing justice, and doing justice can make many seek to be justified by faith."
Commenting on Acts 6, Dr. Keller also states that "The practical actions of Christians for people in need was therefore striking to observers and made them open to the gospel message," noting that "the word of God spread. The number of disciples in Jerusalem increased rapidly." Dr. Keller claims Luke is describing "a cause-effect relationship" between the "practical actions of Christians for people in need" and "the number of disciples" which "increased rapidly." In other words, the effect is rapid growth, and the cause is the "practical actions of Christians.
But Dr. Keller's interpretation of Acts 6 is highly suspect. In Engaging with Keller Dr. Richard Holst cites a number of passages in which Dr. Keller offers interpretations "the passage does not teach at all." One of those passages is Acts 6:1-7. Dr. Holst writes,
Another example of this problem can be seen in Keller's treatment of the establishment of the diaconate in Acts 6:1–7.
Based upon such a statement, we might expect to find some material in Acts 6 reporting how the people were amazed by the generosity of the Christians and therefore gave the gospel a hearing. Such reports are commonplace in the Book of Acts; on more than a dozen occasions Luke narrates the people's reaction to significant events along with the specific reason for their reaction. However, in this particular case, we find nothing of the sort.
According the apostles' explanation, the problem is that they were being distracted from their appointed mission: "It is not desirable that we should leave the word of God and serve tables." They therefore set up the diaconate with the express purpose that "we will give ourselves continually to prayer and to the ministry of the word". What follows from this single-minded focus on the means of grace is that "the word of God spread". Nothing at all is said about the church's sharing being observed by the outside world, nor that they found it striking, nor that this made them open to the gospel message. The statement "The practical actions of Christians for people in need was therefore striking to observers and made them open to the gospel message" is a fascinating speculation, but it is patently not exegesis. Keller has again passed up the opportunity to teach what the passage seems primarily to convey—deacons should perform their function so that ministers can focus on prayer and the ministry of the word—and is using a superficial element as warrant for something the passage does not say.
[See Tim Keller's Hermeneutic]
Note: Dr. Keller also writes, "For an excellent account of how generosity and care for the poor were crucial to the evangelism of the early church, see Alan Kreider, 'They Alone Know the Right Way to Live' in Mark Husbands and Jeffrey P. Greenman's Ancient Faith for the Church's Future (Downers Grove, Ill.; InterVarsity Press, 2008). Kreider notes that early Christianity grew explosively—40 percent per decade for nearly three centuries—at a time when 'early Christians did not engage in public preaching; it was too dangerous. There were practically no evangelists or missionaries whose name we know…The early Christians had no mission boards. They did not write treatises on evangelism…after Nero's persecution in the mid-first century… closed their worship services to visitors. Deacons stood at the churches' doors, serving as bouncers, checking to see that no unbaptized person, no 'lying informer,' could come in…And yet the church was growing. Officially it was a superstition. Prominent people scorned it. Neighbors discriminated against the Christians in countless petty ways. Periodically the church is subjected to pogroms…It was hard to be a Christian…And still the church grew. Why? (pp. 169-170). This striking way of laying out the early church's social situation forces us to realize that the church must have grown only because 'it was attractive. People were fascinated by it, drawn to it as to a magnet' (p. 170). Kreider goes on to make a strong historical case that what attracted nonbelievers was the Christians' concern for the weak and the poor, their economic sharing, and their sacrificial love even for their enemies."
The Apostle Paul's aim was never to Christianize the Roman Empire or to transform Greco-Roman culture. We just don't see that goal in the book of Acts or in his epistles. Rather, the Great Commission, received from Jesus Himself, is not to make all things right in this fallen world. Christ will make all things new at his glorious return. No, Paul's aim, along with the apostles, in response to the Great Commission, was to proclaim the gospel from all of Scripture, to make mature disciples, and to plant and strengthen churches. The disciples in those churches would then, through their various callings, be salt and light in their community and be faithful gospel witnesses. To be sure, the fruit of making strong disciples will have an impact in the world. But this impact is the fruit of mission, not the root of it.

JON PAYNE
The book of Acts is especially important because in it we can actually see the scope and nature of the earliest Christian mission. If you are looking for a picture of the early church giving itself to creation care, plans for societal renewal, and strategies to serve the community in Jesus's name, you won't find them in Acts. But if you are looking for preaching, teaching, and the centrality of the Word, this is your book.

KEVIN DEYOUNG
6. Jude 3 & the PCA also points out there's someone and something missing in Dr. Keller's argument for social justice. That "someone" is the Holy Spirit, and the missing "something" is the preached word. But Dr. Keller mentions the Holy Spirit just once. And that mention recognizes the Holy Spirit as the cause for "radical sharing with the needy," rather than the cause of successful preaching. But the Holy Spirit is mentioned fourteen times in Acts 1-6. And preaching and teaching are mentioned repeatedly. Also, lengthy sermon content is presented throughout those first six chapters. 
Cultural and social "credibility" for the church seem Dr. Keller's concern. That priority is supported by regular references to John Perkins, Martin Luther King, Jr., and many others who are often praised and/or cited. But in the book's two hundred fifty-one pages Dr. Keller mentions the Holy Spirit only twice while urging his readers to "discern the balance I am seeking to strike," a balance between "evangelism and social justice." But Generous Justice, tips that balance heavily in favor of social justice credibility ("life examples"). The Holy Spirit and the preached word, the primary causes for church growth, are barely mentioned by Dr. Keller, even though most of Acts 1-6 is preaching and teaching in the power of the Holy Spirit.
Luke, the writer of Acts, makes his own observation regarding the cause of early church growth. He writes, "the Holy Spirit, he has poured out this that you yourselves are seeing and hearing." (Acts 2:33). What they are "seeing and hearing" is the fulfillment of Jesus' promise that "you will receive power when the Holy Spirit has come upon you, and you will be my witnesses in Jerusalem and in all Judea and Samaria, and to the end of the earth." (Acts 1:8). The Holy Spirit is the "power" behind sound preaching that causes proper church growth. Proper social involvement is important, but it was not the cause of proper church growth in the early church, and it's not the cause of proper church growth now. Proper church growth, then and now, is the direct and indirect result of faithful preaching inspired by the Holy Spirit.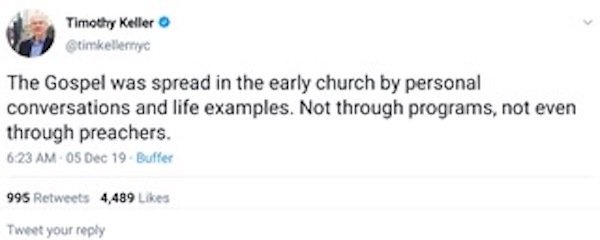 Where is the one who is wise? Where is the scribe? Where is the debater of this age? Has not God made foolish the wisdom of the world? For since, in the wisdom of God, the world did not know God through wisdom, it pleased God through the folly of what we preach to save those who believe.

I CORINTHIANS 1: 20,21
And let us consider how to stir up one another to love and good works, not neglecting to meet together, as is the habit of some, but encouraging one another, and all the more as you see the Day drawing near.

HEBREWS 10:24,25
For those who find the preaching of "repentance toward God, and faith toward our Lord Jesus Christ" (Acts 20:21) too simple a remedy to be effective against the ills of the world, Christ insists that, like the mustard seed, such preaching will produce a result far out of proportion to the means employed. It will work in the world, in the church, and in the believer as a potent spiritual force, just as hidden leaven works in meal or flour.

JOEL BEEKE
Conclusion:
Jude 3 & the PCA agrees with Dr. Keller that the Bible speaks plainly and often about believers' social responsibilities. We also agree Christians often excuse themselves from addressing these responsibilities. But our disobedience is not because the Bible's expressions of social priorities are vague or need interpretation and contextualization in Social Justice language. The Bible is already clear, comprehensive, and culturally relevant concerning our responsibilities for the poor and powerless, and we need to heed its instruction. And we are convinced that if PCA churches grow properly, it won't be because we are generous. It will be because the Bible is preached faithfully, and that preaching is applied by the Holy Spirit.
Servants, be subject to your masters with all respect, not only to the good and gentle but also to the unjust. For this is a gracious thing, when, mindful of God, one endures sorrows while suffering unjustly. For what credit is it if, when you sin and are beaten for it, you endure? But if when you do good and suffer for it you endure, this is a gracious thing in the sight of God. For to this you have been called, because Christ also suffered for you, leaving you an example, so that you might follow in his steps. He committed no sin, neither was deceit found in his mouth. When he was reviled, he did not revile in return; when he suffered, he did not threaten, but continued entrusting himself to him who judges justly.

I PETER 2: 18-23
By Tim Challies:
As Christians emphasize matters of righteousness, justice, and equity, as we ponder the challenges related to living peaceably and fairly in covenant community and the wider community, as we distinguish genuinely Christian behavior from worldly counterfeits, there is no doubt that we need a source of reliable wisdom. We need to know not only that we must act justly and love mercy and walk humbly, but also how. Thankfully, God has given us a whole book to instruct us, if only we will carefully and prayerfully read, ponder, and apply it.
I charge you in the presence of God and of Christ Jesus, who is to judge the living and the dead, and by his appearing and his kingdom: preach the word; be ready in season and out of season; reprove, rebuke, and exhort, with complete patience and teaching.

II TIMOTHY 4:1,2
By Peter J. Naylor
How shall we respond to Keller's doctrine of the church's mission? We must reject it for several reasons:
He fails to establish his case on the basis of Scripture. This happens because his handling of Scripture is defective. He approaches the text with a predetermined agenda that distorts his interpretation. For example, his interpretation of Christ's mission is skewed from the spiritual and eternal plane to the temporal and social plane.
He focuses too narrowly on the problem of material poverty and thereby takes away from a concentration on the deeper spiritual plight of man, which is what the church is really to address.
He has misunderstood the Mosaic Law and has taught an unbiblical concept of wealth redistribution—and that on the basis of texts which actually preserve ownership of property.
He has failed to observe proper distinctions between the spheres of church and state and between the Christian and the church (members and the body). As a result, the dual-track mission that he advocates lacks the authority and wisdom of Christ. It also conceals some real dangers for the church. For example, if the church accepts the second track—of activism in the cause of social justice and so on—it will find itself overburdened. Even modest social tasks can soak up the energies of a congregation. But it will also find its concentration on preaching the gospel and personal witnessing becomes diluted. And when the gospel message is preached, it will be set in an unbalanced framework. It is a concern that some of the actions advocated will lead the church on a collision course with the authorities of the state. At the very least, the church will be teaching the surrounding society to look to it for those things that it has not been called to deliver. Expressing this in the style of elenctic theology (denial, affirmation and distinction), we deny that the church has a dual mission; we affirm that the Christian should exercise love and mercy in all his relationships; we distinguish between the commission given to the body and the commission given to the member; and we distinguish between the church's role and the state's.
We therefore encourage the believer to live to the full the Christian life, and to do good to all men, especially those who are of the household of faith. We encourage the church to preach the gospel to every person and to stand before kings with the truth. Its ministers must give themselves to the Word of God and prayer. The most effective means of changing society is indirect—by means of the Word of God and prayer.
From Engaging with Keller: Thinking through the Theology of an Influential Evangelical, William M. Schweitzer, ed. / Used with permission.
By Jon Harris:
From his earliest and most formative years as a Christian and theologian, Keller, who already stood politically with progressives, was influenced by the evangelical left. Tom Skinner, Elward Ellis, Harvie Conn, Richard Mouw, and John Perkins all contributed to helping Keller integrate his faith with his politics. Keller often interpreted scriptures concerning politics and economics in ways consistent with neo-Kuyperian and liberation theologies. Keller then successfully marketed his ideas to the evangelical world. Today, having stepped down from pastoring at Redeemer Presbyterian in 2017, Tim Keller teaches for Reformed Theological Seminary and works with Redeemer's City to City church planting network, where he continues to spread his ideas on "contextualization" which he first learned from Harvie Conn. Keller's contribution to moving evangelicals in a leftward direction cannot be underestimated. The impact of his teachings will be felt for years to come.
How TGC is Destroying Justice and the Church
By Jon Harris
How Missions Began
by David McWilliams
C. S. Lewis
SCREWTAPE writing WORMWOOD on SOCIAL JUSTICE:
About the general connection between Christianity and politics, our position is more delicate. Certainly we do not want man to allow their Christianity to flow over into their political life, for the establishment of anything like a really just society would be a major disaster. On the other hand we do want, and want very much, to make men treat Christianity as a means; preferably, of course, as a means to their own advancement, but, failing that, as a means to anything—even to social justice. The thing to do is to get a man at first to value social justice as a thing which the Enemy demands, and then work him on to the stage at which he values Christianity because it may produce social justice.
Please note that by offering these observations and recommendations, Jude 3 in the PCA is not assigning motive. We are asserting, however, that Dr. Keller has taught and promoted error that has undermined the worship, edification, and witness of the Presbyterian Church in America.
NOTE: For simplicity of presentation, we have not provided citations on this page. However, if you need that information, you may email us at Jude3PCA@gmail.com.
Recommended Reading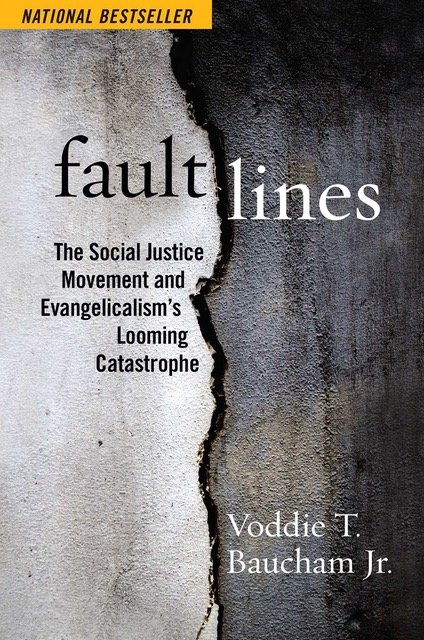 By Voddie Baucham
"This book is, among many things, a plea to the Church. I believe we are being duped by an ideology bent on our demise. This ideology has used our guilt and shame over America's past, our love for the brethren, and our good and godly desire for reconciliation and justice as a means through which to introduce destructive heresies." – Voddie Baucham
By E. Calvin Beisner
"In his booklet, Social Justice: How Good Intentions Undermine Justice and Gospel, Dr. E. Calvin Beisner exposes the sad and unintended consequences of redistribution. He also goes to the heart of the issue: the meaning of justice itself and whether, in fact, justice requires the sort of equality Progressives claim…" – The Christian Worldview
By William H. Schweitzer, ed.
"Dr Keller is committed to a culturally-contextualized version of the Christian faith designed to attract urban intellectuals. He frankly acknowledges that he has, at least in the cases of the doctrines of creation, sin and hell, come to an alternative rendering with the objective of making it less offensive. On one hand, this strategy in the hands of such a highly gifted man means that his writings have become among the most popular and influential in Christendom. On the other hand, the resulting teaching in his writings is predictably at variance with Scripture on a number of important points.
This being the case, the need for this book unfortunately remains. The contributors of this book do not relish this kind of work and would much prefer to devote ourselves to purely positive pursuits. Nonetheless, the need to clarify the truth for Christ's flock is unequivocal and so we have been urged to publish this second edition. It is my hope that there will be no need for a third edition. Rather, I pray that Dr Keller would retract the aspects of his teaching that are identified in the chapters of this book. This would be best for the church and best for his legacy.
Finally, in this age of growing divergence between progressive and conservative schools within Reformed denominations, please join with me in praying for the unity of the church—a unity based on our common Head and his eternal truth. '…till we all come to the unity of the faith and of the knowledge of the Son of God, to a perfect man, to the measure of the stature of the fullness of Christ' (Eph 4:13)." – William M. Schweitzer, ed.
By Noah Rothman
"An elegant and thoughtful dismantling of perhaps the most dangerous ideology at work today. Modern social justice thinking tears away at our most cherished ideals and institutions. Noah Rothman has done a tremendous service in cutting through the sloganeering and getting to the heart of the matter—the elevation of crude identity politics at the expense of decency, merit, and truth." – Ben Shapiro
Like a sheep he was led to the slaughter and like a lamb before its shearer is silent, so he opens not his mouth. In his humiliation justice was denied him. Who can describe his generation? For his life is taken away from the earth.

ACTS 8:32,33