Her priests have done violence
to my law and have profaned my holy things.
They have made no distinction between the holy and the common,
neither have they taught the difference between the unclean and the clean, and they have disregarded my Sabbaths, so that I am profaned among them.

EZEKIEL 22:26
By Joel Beeke
The goal of piety is to recognize and praise the glory of God—glory that shines in God's attributes, in the structure of the world, and in the death and resurrection of Jesus Christ. The desire to glorify God supersedes even the desire for personal salvation in every truly pious person. We were created that God might be glorified in us, and the regenerate yearn to live out this purpose. Furthermore, God redeems, adopts, and sanctifies His people that His glory would shine in them and deliver them from impious self-seeking. As a result, the pious man's deepest concern is God Himself and the things of God—God's Word, God's authority, God's gospel, God's truth. He yearns to know more of God and to commune more with Him.
By Jon Payne:
To rightly understand Lord's Day worship as discipleship, we must first recognize what public worship is not. Worship is not an evangelistic crusade meeting. Neither is it a time for sanctified entertainment, to showcase the talents of pastors, congregants, musicians, singers, dancers, or actors. Nor is public worship an informal church fellowship meeting to energize and inform the flock about up-and-coming programs and service opportunities.
While sadly these emphases have become all too familiar in worship services today, nowhere in scripture does divine worship display these characteristics. No, God's word teaches something very different.
Biblical worship is a sacred meeting between God and his covenant people (i.e. the visible church). It's where Christ, through his word and Spirit, matures his disciples. In other words, worship is the sacred context wherein the ascended Christ himself informs, feeds, nourishes, comforts, and fortifies the faith of his flock through the ordinary means of grace. God is not just present with us in public worship, he is active among us through his Word, sacraments, and prayer. Therefore, Lord's Day worship is intended to be no less than the salvific in-breaking of the greater, eternal realities of the kingdom of God into the lesser, temporal realities of the kingdoms of man. It's the workshop of the Holy Spirit, and not just another meeting of the church. It's where disciples are made.
And let us consider how to stir up one another to love and good works, not neglecting to meet together, as is the habit of some, but encouraging one another, and all the more as you see the Day drawing near.

HEBREWS 10:24,25
By Jon Payne:
In Psalm 42:1-2a the psalmist writes, "As a deer pants for flowing streams, so pants my soul for you, O God. My soul thirsts for God, for the living God." Elsewhere David pens, "O God, you are my God; earnestly I seek you; my soul thirsts for you; my flesh faints for you, as in a dry and weary land where there is no water" (Ps. 63:1). Our Lord Jesus declares, "Blessed are those who hunger and thirst for righteousness, for they shall be filled" (Mt. 5:6). The common theme in these verses is that of hungering and thirsting for God. The question is how do we recover and foster a holy hunger for God? How do we regain and cultivate a sacred thirst for Christ? How do we renew in our hearts an earnest longing for God? Here are three simple ways…
By Sean Morris:
Friends, there are many hungry and confused sheep in the fold of God like my college-age self: let us give them precisely what they need and what our Lord has determined they deserve. Let us not be unduly creative, inventive, or innovative in our preaching. Let us be steadfastly committed to the discipline and soul-nourishing practice of expository preaching. Let us faithfully exposit and herald and proclaim the wonderful words of life, to the everlasting good of the souls of God's people and to the glory of Christ.
The Priority of Worship
by Sinclair Ferguson
No Idols, But Right Worship
by David McWilliams
A Call to Family Worship
by David McWilliams
The Gospel Reformation Network
Reverent corporate worship, then, is not optional for the church of God…Rather, it brings to expression the very being of the church. It manifests on earth the reality of the heavenly assembly.

EDMUND CLOWNEY
Courtesy of Ligonier Ministries
By Sinclair Ferguson
We worship the one true God, the God who is holy. In this session, Dr. Sinclair Ferguson teaches on God's holiness and how this attribute sets Him apart from false gods.
Of Religious Worship and the Sabbath Day
Westminster Confession of Faith, Chapter 21
The light of nature showeth that there is a God, who hath lordship and sovereignty over all; is good, and doth good unto all; and is therefore to be feared, loved, praised, called upon, trusted in, and served, with all the heart, and with all the soul, and with all the might.(1) But the acceptable way of worshipping the true God is instituted by Himself, and so limited by His own revealed will, that He may not be worshipped according to the imaginations and devices of men, or the suggestions of Satan, under any visible representation, or any other way not prescribed in the Holy Scripture.(2)
Religious worship is to be given to God, the Father, Son, and Holy Ghost; and to Him alone:(1) not to angels, saints, or any other creature:(2) and, since the fall, not without a mediator; nor in the mediation of any other but of Christ alone.(3)
Prayer, with thanksgiving, being one special part of religious worship,(1) is by God required of all men;(2) and, that it may be accepted, it is to be made in the name of the Son,(3) by the help of His Spirit,(4) according to His will,(5) with understanding, reverence, humility, fervency, faith, love, and perseverance;(6) and, if vocal, in a known tongue.(7)
Prayer is to be made for things lawful,(1) and for all sorts of men living, or that shall live hereafter;(2) but not for the dead,(3) not for those of whom it may be known that they have sinned the sin unto death.(4)
The reading of Scriptures with godly fear;(1) the sound preaching,(2) and conscionable hearing of the Word, in obedience unto God, with understanding, faith, and reverence;(3) singing of Psalms with grace in the heart;(4) as also, the due administration and worthy receiving of the sacraments instituted by Christ; are all parts of the ordinary religious worship of God:(5) besides religious oaths,(6) vows,(7) solemn fastings,(8) and thanksgivings upon special occasions,(9) which are, in their several times and seasons, to be used in an holy and religious manner.(10)
Neither prayer, nor any other part of religious worship, is now, under the Gospel, either tied unto, or made more acceptable by, any place in which it is performed, or towards which it is directed;(1) but God is to be worshipped everywhere(2) in spirit and truth;(3) as, in private families(4) daily,(5) and in secret, each one by himself;(6) so more solemnly in the public assemblies, which are not carelessly or wilfully to be neglected or forsaken, when God, by His Word or providence, calleth thereunto.(7)
As it is the law of nature, that, in general, a due proportion of time be set apart for the worship of God; so, in His Word, by a positive, moral, and perpetual commandment binding all men in all ages, He hath particularly appointed one day in seven, for a Sabbath, to be kept holy unto Him:(1) which, from the beginning of the world to the resurrection of Christ, was the last day of the week; and, from the resurrection of Christ, was changed into the first day of the week,(2) which, in Scripture, is called the Lord's Day,(3) and is to be continued to the end of the world, as the Christian Sabbath.(4)
This Sabbath is then kept holy unto the Lord, when men, after a due preparing of their hearts, and ordering of their common affairs beforehand, do not only observe an holy rest, all the day, from their own works, words, and thoughts about their worldly employments and recreations;(1) but also are taken up, the whole time, in the public and private exercises of His worship, and in the duties of necessity and mercy.(2)
Scripture:
(1) Ro 1:20; Ac 17:24; Ps 119:68; Jer 10:7; Ps 31:23; Ps 18:3; Ro 10:12; Ps 62:8; Josh. 24:14; Mk 12:33. (2) Dt 12:32; Mt 15:9,10; Dt 15:1-20; Ex 20:4,5,6; Col 2:23.
(1) Mt 4:10; Jn 5:23; 2Co 13:14. (2) Col 2:18; Rev 19:10; Ro 1:25. (3) Jn 14:6; 1Ti 2:5; Eph 2:18; Col 3:17.
(1) Php 4:6. (2) Ps 65:2. (3) Jn 14:13,14; 1Pe 2:5. (4) Ro 8:26. (5) 1Jn 5:14. (6) Ps 47:7; Ecc 5:1,2; Heb 12:28; Ge 18:27; Jas 5:16; Jas 1:6,7; Mk 11:24; Mt 6:12,14,15; Col 4:2; Eph 6:18. (7) 1Co 14:14.
(1) 1Jn 5:14. (2) 1Ti 2:1,2; Jn 17:20; 2Sa 7:29; Ruth 4:12. (3) 2Sa 12:21,22,23; Lk 16:25,26; Rev 14:13. (4)1Jn 5:16.
(1) Ac 15:21; Rev 1:3. (2) 2Ti 4:2. (3) Jas 1:22; Ac 10:33; Mt 13:19; Heb 4:2; Isa 66:2. (4) Col 3:16; Eph 5:19; Jas 5:13. (5) Mt 28:19; 1Co 11:23-29; Ac 2:42. (6) Dt 6:13; Ne 10:29. (7) Isa 19:21; Ecc 5:4,5. (8) Joel 2:12; Esther 4:16; Mt 9:15; 1Co 7:5. (9) Ps 107; Esther 9:22. (10) Heb 12:28.
(1) Jn 4:21. (2) Mal 1:11; Tim. 2:8. (3) Jn 4:23,24. (4) Jer 10:25; Dt 6:6,7; Job 1:5; 2Sa 6:18,20; 1Pe 3:7; Ac 10:2. (5) Mt 6:11. (6) Mt 6:6; Eph 6:18. (7) Isa 56:6,7; Heb 10:25; Pr 1:20,21,24; Pr 8:34; Ac 13:42; Lk 4:16; Ac 2:42.
(1) Ex 20:8,10,11; Isa 56:2,4,6,7. (2) Ge 2:2,3; 1Co 16:1,2; Ac 20:7. (3) Rev 1:10. (4) Ex 20:8,10; Mt 5:17,18.
(1) Ex 20:8; Ex 16:23,25,26,29,30; Ex 31:15; Ne 13:15-19,21,22. (2) Isa 58:13; Mt 12:1-13.
Recommended Reading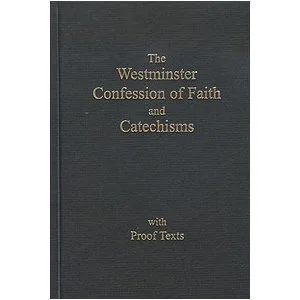 "This is the official document of the PCA. Contains the Westminster Confession, Larger and Shorter Catechisms and Scripture proofs on each page." – Amazon
By A. A. Hodge
"The younger Hodge was gifted with the ability to communicate the best theology in a satisfying and pleasant style. His Commentary on the Westminster Confession of Faith demonstrates these qualities magnificently. Professor Francis Patton of Princeton Seminary called this volume, 'a very useful book, full of clear thinking and compact statements. It reveals Hodge's strong convictions, his power of analysis and his ability to make sharp and discriminating definitions.'" – Amazon
Therefore let us be grateful for receiving a kingdom
that cannot be shaken, and thus let us offer to God
acceptable worship, with reverence and awe,
for our God is a consuming fire.

HEBREWS 12:28,29
"*" indicates required fields